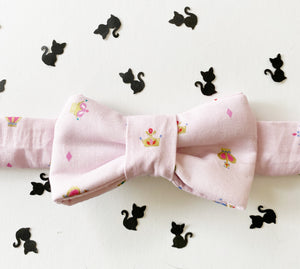 Royalty Print Bow Tie Cat Collar
This adorable tie with all over royal crown print is perfect for kitties! 

Each bow tie is made of cotton print with felt lining. The 10" collar is meant for short term wear and uses Velcro to stay in place (Velcro makes collar adjustable between 8" and 9.5"). Should fit most kitties of average size; if you need a longer collar, please leave me a note upon checkout with your desired length.