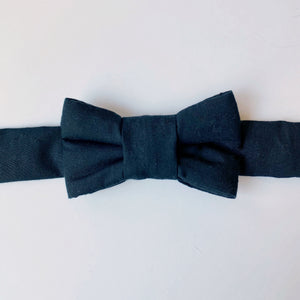 Classic Black Bow Tie for Cats
Shop our exquisite black bow tie for a touch of timeless elegance. Handcrafted with meticulous attention to detail, this classic accessory adds a sophisticated charm to any formal ensemble. Whether it's a wedding, gala, or special occasion, our black bow tie complements your style with its sleek and versatile design. Made from high-quality materials, it offers both comfort and durability.

Each bow tie is made of cotton with felt lining. The 10" collar is meant for short term wear and uses Velcro to stay in place (Velcro makes collar adjustable between 8" and 9.5"). Should fit most kitties of average size; if you need a longer collar, please leave me a note upon checkout with your desired length.