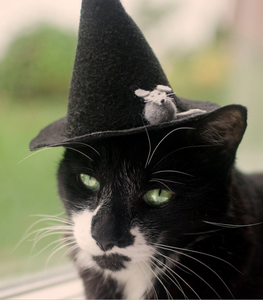 Witch Kitty of Salem Cat Hat
Is your kitty a good witch or a bad witch? I'm not sure which category he or she would fall into, but I bet they would be a CUTE WITCH in either case in this spiffy cat hat! Appropriately made in Salem, Massachusetts -- home to Notso Kitty's studio and witches and warlocks of all shapes and sizes! This kitty witch hat comes complete with a miniature mouse sitting on the brim---what cat wouldn't want that?!?
This cat hat is constructed of stiffened felt and is held on kitties head for short periods of time with the help of a small elastic that is attached to the hat. Mini mouse is also made of felt and felted parts. Not meant for unsupervised or long-term wear.
Hat comes with descriptive branded Notso Kitty tag- ready for retail display!