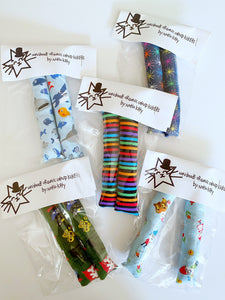 Save $1! RANDOM PRINT Catnip Kickers
Perfect for presents for kitty or your favorite feline-lovers, these handmade catnip kickers are just the thing to get your kitty into a great mood! 
Save $1 off the usual price when you let us pick the pattern. Pattern theme selection is for overall general theme (everday, Halloween, or Holiday)--- we pick the rest!

Each kicker is about 4.5"-5.5" long and they come in sets of two.